A year ago I sat in front of my computer, thinking about hosting a challenge during the last six month of 2009. I started the Everything Austen challenge and was so thrilled to have over two hundred participants. Since it was such a big hit, I've decided to do it all over again. Welcome to Everything Austen II! 
I love everything Jane and there are plenty of books and movies available to satisfy any Austen fan. Whether it's a novel about the Bennet sisters fighting zombies, a TV mini-series in which a modern day British girl swaps places with Elizabeth Bennet or Colin Firth's unforgettable portrayal of Darcy, Austen is all around us. Even if you haven't read any of Jane Austen's novels, mostly likely you've seen some of the movies or heard about all the Austen-themed books available today.  
The details! The Everything Austen Challenge will run for six months (July 1, 2010 – January 1, 2011)! All you need to do is pick out six Austen-themed things you want to finish to complete the challenge. You have until Thursday, July 15th 2010 to officially sign up.
What is considered Austen-themed? Obviously, any of the books Jane wrote herself count, so if you've been contemplating reading one of her novels, now is the time! Or, maybe watch the different movie versions of Pride and Prejudice. You could even try reading one of the many sequels written by various authors or listen to the audio book version in your car on your way to work. There were even a few people during last year's challenge who worked on cross-stitch patterns inspired by Austen.  Truly, the list can be endless! All you need to do is pick six Austen-themed items to read, watch or craft to participate. Note that you can mix it up a bit – maybe commit to watching three movies and reading three books – or if your TBR pile is huge, pick out six movies you would like to watch – YOU DECIDE! Also, you can combine this with another challenge. For example, if you are going to participate in Carl's RIP challenge this fall, maybe add Northanger Abbey to your list. Or read a couple books during the next Dewey 24 hour read-a-thon.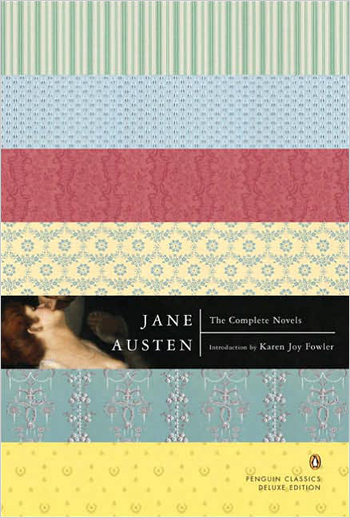 Here's the most fun part – now you get to look through your bookshelf, DVD collection, or visit your local library or indie bookstore to find some Austenesque items!
How you can sign up! Grab one of the challenge buttons above and write a post detailing what six Austen-themed things you are going to do over the next six months.  Then come back here and use the Mr. Linky at the bottom of this post to link directly to your introductory post. It's that easy! If you don't have a blog but would like to join anyway, just leave a comment on this post. 
Check back often! Everything Austen II will officially begin on July 1, 2010 with my review of Scones and Sensibility by Lindsay Eland. I will also be posting a wonderful guest post that Lindsay has written about two of my most favorite things (Jane and DESSERTS)!  Throughout the challenge I will be hosting various giveaways and guest posts, so make sure to stop by my blog often.
The Details! Once the challenge starts in July, you will see a tab at the top of Stephanie's Written Word titled Everything Austen II. This is the place you will click on each time you have a new review post up relating to the challenge. A Mr. Linky dedicated just for your reviews will be found by clicking on that tab. Please note that the Mr. Linky that you currently see below is just for signing up for the challenge (not for your reviews throughout the challenge). Be sure to check back often to see who else is reading and watching. You will also find a list of all the participants.
Talk about it on Twitter! I'll also be tweeting (my Twitter ID is @SWrittenWord) about the challenge using hashtag #everythingausten so make sure to follow me for updates and information.
Stumped as to what six things you would like to pick for this challenge? Take a peek at the below list for some suggestions (you don't have to pick from the lists below – just thought it might be helpful):
Any of Jane Austen's novels
Movies based on Austen novels:
Pride & Prejudice BBC version
Pride & Prejudice (2005)
Sense & Sensibility
Emma
Northanger Abbey
Mansfield Park
Persuasion
Austen-themed movies:
Bridget Jones's Diary
Bride & Prejudice
Clueless
Lost in Austen
The Jane Austen Book Club
Jane Austen in Manhattan
Books & Movies based on Jane Austen's life:
Jane's Fame by Claire Harman
A&E Biography: Jane Austen
Jane's Fame: How Jane Austen Conquered the World by Claire Harman
The Lost Memoirs of Jane Austen by Syrie James
Just Jane by Nancy Moser
Becoming Jane Austen by Jon Spence
Cassandra and Jane: A Jane Austen Novelby JillPitkeathley
Becoming Jane movie

Sequels to Pride & Prejudice:
The Darcys and the Bingleys by Marsha Altman
The Private Diary of Mr. Darcy by Maya Slater
The Plight of the Darcy Brothers by Marsha Altman
The Confession of Fitzwilliam Darcy by Mary Street
Mr. Darcy Takes a Wife by Linda Berdoll
Austen for the twisted (Vampires & Zombies):
Pride, Prejudice & Zombies by Sean Grahame-Smith
Mr. Darcy, Vampyre by Amanda Grange
Jane Bites Back by Michael Thomas Ford
Mansfield Park and Mummies by Vera Nazerian
Emma and the Vampires by Wayne Josephson
Books inspired by Austen works:
Willoughby's Returnby Jane Odiwe
Lydia Bennet's Storyby Jane Odiwe
Jane Austen for Dummies by Joan Elizabeth Klingel Ray
Me & Mr. Darcy by Alexandra Potter
The Jane Austen Handbook by Margaret C. Sullivan
Confessions of a Jane Austen Addict by Laurie Viera Rigler
Rude Awakenings of a Jane Austen Addict by Laurie Viera Rigler
The Jane Austen Book Club by Karen Joy Fowler
Austenland by Shannon Hale
Bridget Jones's Diary by Helen Fielding
Vanity and Vexation: A Novel of Pride & Prejudice by Kate Fenton
Pride, Prejudice & Jasmin Field by Melissa Nathan
Jane Austen Ruined My Life by Beth Pattillo
Mr. Darcy Broke My Heart by Beth Pattillo
Jane Austen's Guide to Dating by Lauren Henderson
The Man Who Loved Jane Austen by Sally Smith O'Rourke
Murder at Longbournby Tracy Kiely
Murder at Mansfield Park by Lynn Sheperd
Lost in Austen: Create your own Jane Austen Adventure by Emma Campbell Webster
For some more inspiration, check out these Austen blogs:
Austenblog
Austenprose
Jane Austen Reviews
Jane Austen Today
What's in it for you? Other than reading great books, watching fun movies or getting all crafty, as an added incentive just for signing up for the Everything Austen II Challenge you will qualify to win a SIGNED copy of Scones and Sensibilityby Lindsay Eland!  To win, just make sure to post about the Everything Austen II Challenge on your blog and sign up with Mr. Linky at the bottom of this post  by July 15th. Please note that even though anyone can join up, only participants in the continental US can qualify to win the signed book. I will pick a winner at random from all the participants.
More prizes! I will also be offering prizes over the next six months, so check back often to see what Austen-themed stuff I have up for grabs for the participants!
SIGN UP HERE!!
126 Comments
Bless you Stephanie for validating my Austen obsession. I am upping my ante to 12, just because. My list of Austen books

Cheers, Laurel Ann

Oh you know I'm going to join! I haven't decided yet how I'll mix up my Austen books but I'll post on that soon. Thank you so much for hosting it again – yay!

Yeah! I was just looking at your blog a couple of days ago wondering when Everything Austen II would be up. I'll have to make up my list and sign-up soon. Thank-you again for hosting this. I really enjoyed it last year!

Here are my choices… I'm not as ambitious as Laurel Ann…. yet

http://citivolussus.blogspot.com/2010/06/everything-austen-ii.html

I am so excited about this challenge! There are so many Austen related items I have yet to read or see, I will have trouble just choosing six!

[...] of challenges, you guys saw that Stephanie is bringing back the Everything Austen challenge right? I can't wait. I actually am trying to decide which Austen to read Mansfield [...]

This is my first time, glad to be abroad!

Yay! I started blogging after the first round was already in full swing, so I'm so excited to join this time!

I'd already decided to immerse myself in all things Austen for the summer, so what's a few more months and books? In fact, keeping all I want to do down to six was the real challenge, so I ended up with a few more. Still, doing them with a group will be great motivation. Thanks so much for organizing this event!

[...] Kals has inspired me enough to take up the Everything Austen II challenge that's running on Stephanie's Written Word. I had been eyeing it since last year, and finally decided to take it up this [...]

Please count me in!!

This is my first time participating, and I'm so excited! I love Austen!

[...] by diaryofaneccentric Given that I love all things Jane Austen, I just had to sign up for the Everything Austen II challenge hosted by Stephanie's Written Word.  The challenge runs from July 1, 2010, to Jan. [...]

Ok, I'm going to try this again! I didn't make it last year AND I said I wouldn't enter any challenges this year. But I have a superficial love of Jane. Which I will talk about in my opening post!

I'm glad to see that this challenge is back. I missed out on it last year!

[...] for Round II. Stephanie is hosting Everything Austen II, starting in July. Pick 6 Austen-related books, movies or projects to complete by January 1, 2011. [...]

Oh, I'm in. Again. I had so much fun last year and I intend on making a dent in all the recommendations I got from last year's reviews. Thanks for repeating this Challenge, Stephanie!

Yay! This is going ot be my first challenge ever, and I am really really excited about it. I love all things Austen — if I ever get my butt in gear enough to go for a PhD, it's highly likely to be Austen related. Looking forward to this, and getting to read my books with a purpose!!! Thanks, Stephanie.

I'm so excited about another Austen challenge! This fits right in with my own resolution to read all of Austen's novels! Great challenge!

I would love to do this challenge but I will have to wait until Everything Austen III. (There WILL be a III, right???) I have a lot of challenges going on right now. I do love Austen though and will be reading all of the challenge posts I can!

Hmm, I'm thinking about signing up but I'd have to cheat a little. I'm already reading Jane's Fame and planning to view Emma, very soon (I watched part of it during a storm, but my laptop battery died, so it doesn't count). I have Scones & Sensibility. Okay, damndarn it. I'm in.

I came in late last time so now I'm rarin' to go! I turned 42, 38 minutes ago; what better way to ring in the new year but with a little Jane? =]

Ok… I just linked my sign-up post! Can't wait to get started!

Dear stephanie,
I would like to join this challenge.I shall watch 4 DVDs of her works. Then read the Harman book about how she became Jane Ausen, A memoir by her brother and talking about jane Austen and More talking about Jane Austen by Sheila Kaye Smith. I couldn't fill in your widget thing because I don't know my url. but my blog is on blogspot.Daphne

I'm in! It just so happens that I have this lovely prize package from last year full of goodies to read for this year!

I'm in! I can't wait to dive into the world of Austen. Thanks for hosting this great challenge again, Stephanie!!

Sounds like fun! I've been meaning to read a few Austen-related books, and this will be just the push I need to do it in a timely manner!

huzzah! glad you're doing this again.

I would be delighted to take your Jane Austen challenge! I don't have a blog, but I do love everything Austen-related! My first item will have to be Pride & Prejudice on BBC from 1995 with Colin Firth, since I watch it all the time anyway. My second item will be a re-reading of Darcy's Passions by Regina Jeffers. My third item will be her sequel called Darcy's Dream. Fourth, will be Jane Austen Handbook by Margaret Sullivan. This has been recommended by Laurie Viera Rigler, who wrote 2 wonderful Austen books–Confessions and Rude Awakenings of a Jane Austen Addict–my 2 favorite Austen related books, but I just read them, so I won't include them in this list! Fifthly, I will re-read Emma by Jane Austen and my sixth choice is a little undecided. I think I will watch a Jane Austen related movie for this one. Maybe Bridget Jones Diary, which I have not seen for years, or maybe Clueless or probrobly both! Thanks so much for doing this challenge, Stephanie!

This will be great; it gives me an extra reason to hunt down those austen-themed books and movies I love so well.

[...] more info on Everything Austen II, please visit Stephanie's Written Word. And all of my Everything Austen II posts will be [...]

I'm in. I'm always up for a challenge, especially when it's something this fun. cheers, mari

[...] is the Everything Austen II Reading Challenge which Stephanie is hosting. I joined it last year and although I didn't [...]

I missed the first but I'm not going to miss this for the world.

Thanks for hosting such a great challenge!

Btw – I saw in your side bar that you are currently reading The Forgotten Garden. How are you liking it? I saw it at the bookstore the other night and was intrigued.

My list for Everything Austen II:
Read Persuasion and Sense & Sensibility and Lost Memoirs of Jane Austen
Watch BBC Emma and Bride & Prejudice
Find or create an Austen themed project

Thanks for hosting this fun challenge!

I joined cause of Bookfoolery and Babble. I found my two of three books may read four. We'll see.

I'm so excited! YAY!

Like I need an excuse to read more Jane. I will finally finish Mansfield Park, I swear. I like that you include a crafting option in your challenge, I will be taking advantage of that.

Excited to join up again!

Count me in! I started blogging halfway through the last one! I heard so many great things about it and I am so excited to participate this time! Thank you for hosting, Stephanie!

Wonderful – another Austen challenge. I look forward to it!

I'm signed up there. . . though I still have to go post the list up, but will do it soon. . . and it's my first challenge of any sort, so hopefully I don't mess it up! LOL

Lois

[...] as the All About the Brontës Challenge is ending, I am embarking on a new reading challenge: the Everything Austen Challenge. Regular readers know I love Jane Austen, and I'm looking forward to completing this [...]

I am kind of an idiot when it comes to following Mr. Linky directions. I posted the URL to my blog instead of the post announcing my participation in the challenge, which is here: http://www.danahuff.net/?p=1481. Anyway, looking forward to it!

Looking forward to the challenge! As a member of the
The Greater Boston Jane Austen Book Club Meetup Group, it should be easy to complete. My list includes Becoming Jane Austen, Pemberley by the Sea, Lady Susan, Mansfield Park(the only full novel I have not read this year) , Presumption by Julia Barrett, The Watsons. Cheers!
Kirk

Hi Stephanie! Hi everyone! Well, I'm new to all this fun and welcome the chance to dive in! I've never read Jane Austen, but am absolutely curious about all the wonderful words I've read about her and her books. Thanks Stephanie! …Now to get to my list…where does a newbie start?…hmmmm….
Teresa

I just posted my choices. Instead of making a crafty thing, I am going to bake. Easier to do in the long run for me.

Hello Stephanie and Jane fans everywhere…
First time to do a Jane challenge, but very excited because I really enjoy reading and watching anything Jane!! So hope to join in on all the fun with you! Should be a great six months of Jane!

Hi Stephanie,
First timer! Very excited! Already have 6 things picked out to do for this challenge. Love Jane and anything Jane related. Can't wait!!

I'm so excited to do the challenge again! Here's my list: http://thefashionplanner.blogspot.com/2010/06/everything-austen-ii.html

I'm so excited to be participating in this year's challenge! I look forward to seeing what everyone chooses and reading their posts!

I don't have a blog, but I love Austen! Here's my list…so far. I will be watching (for the first time!) the BBC P&P with the amazing Colin F. & the new Sense adn Sensibility; rewatching Clueless – haven't watched it since I rewatched Emma – can't wait to compare and contrast; I will be treating my sister to a special 50th Austen-themed birthday celebration (with her friends) as we watch the new Masterpiece Theater version of Emma straight through in August; I will be revisiting P&P and introducing myself to Northanger Abbey on audiobook (and probably then watching Northanger Abbey).

Sorry, Stephanie, I don't mean to be a dummy, but I don't understand Mr. Linky. Hope the post above will suffice. And I'll be checking out Scones and Sensibility and The Lost Memoirs of Jane Austen – maybe I can get dessert ideas for my sister's birthday party. You've inspired me to make it as authentic as possible.

[...] The Three Weissmanns of Westport is indeed Sense and Sensibility set in modern Westport, CT and New York. I like it so far. It's full of modern pop culture references (Gawker, Oprah, subtle shades of James Frey). I'm not sure how well it will stand the test of time as a result. I think the author does more telling rather than showing, but I'm entertained and intrigued enough to finish. I'm 41% finished with it. I'm reading it for the Everything Austen Challenge. [...]

I'm glad you are hostessing this again – thank you!

:0)

I am so excited! My list:
- Sense and Sensibility
- Emma
- Persuasion
- Mansfield Park
- The Lost Memoirs
- Pride, Prejudice, and Zombies

[...] and not run of things to do for a very long time. When I stumbled across the Everything Austen II Challenge a few weeks ago, I knew this would be a perfect opportunity to organize my obsession a bit better. [...]

Post done and sent to twitter with the hashtag of #everythingausten! Super excited about this.

Excited to sign up for this – haven't settled on my list of things to read/watch/listen to quite yet

Am so excited to participate in this challenge, especially since I missed out last year. Thank you for hostessing this another year, Stephanie! I'm new at blogging, but managed to snag the button & write my list. http://dkspinner.blogspot.com/2010/07/everything-austen-challenge-ii.html Hope I linked up correctly. This will be fun!

I'm so happy to sign up again…thanks for putting this together! My list is posted, now to get busy reading, stitching, watching, and crafting!

[...] is my first book for the Everything Austen Challenge. Category: Literature, Review Tags: book review, catherine schine, everything austen [...]

OMG! I clicked *lol* Well I betetr start thinking about what to list for this challenge…

do mysteries inspired by jane austen count?
there is this series with her as sleuth, then there are other series, like with dido kent by anna dean, reviewed on the blog "austenworld"
although i live in france, i have friends in the US, to whom a book could be sent!
andrea apd41(at)free(dot)fr

Just changed my blog url!

TIffany, just go ahead and add your new blog URL to Mr. Linky – Thanks!!

[...] January 1, 2011.   Really — could it get much easier than that?  Stephanie over at  Stephanie's Written Word is graciously hosting this adventure, so please go visit her page to join this challenge as well.  [...]

Hi Stephanie! This is my first time to enter the EA challenge, and my first time to read any of Austen's works. I'm really excited to be joining. Thanks for hosting!

Oh man, I am so entering this. Thanks so much for hosting it! Jane Austen needs more love.

Over the next six months I intend to overload on Everything Austen. From movies, TV series, biographies, novels, audio books and maybe even one of those ghastly Jane Austen zombie rip offs…. you name it, I'm going to attempt it.

I read Jane Bites Back by Michael Thomas Ford during my challenge last year (it's a Jane Austen vampire book) but thought it was a really fun read. Maybe you should add it to your list!

Just heard about this. It sounds like fun! I'll be sticking to the classics, I think.

I am so excited to find this. I have many Jane Austen themed things that I want to accomplish including reading all of her books.

I only really found an attraction to Austen after watching "Miss Austen Regrets" and now I am smitten and want to read and watch everything to do with Jane.

I followed a link to your challenge and am glad I did. I've made my list and am looking forward to everything on it – I've seen a lot more things that I'd like to read/watch as well! Thank you for hosting

The Gutenberg Girls are in on the challenge. Looking forward to the fun!!

Theresa pointed me in the direction of this challenge and persuaded me to join her. I didn't take much persuading. It's books.
Thank you for hosting the challenge. I've linked my initial blog post and look forward to watching the challenge progress.

I had a lot of fun with this last year. Thanks for hosting it again!

I don't have a blog but I want to join in, officially or unofficially. Love all things Austen! yay you for doing this, and @gutenberggirl for posting about it so I could learn about this and your blog!

This sounds awesome!! I hope to watch the classic BBC versions of all of Jane's books that I got last summer! This will really get me to do it! =)

Woo I can't wait! I've got several books in my reading pile, a few movies to watch, AND I want to sew a Regency-style dress.

[...] re-read this novel for the Everything Austen Challenge. It is the second of six Austen-related activities I have planned. [...]

[...] is my first post and first completed task for the challenge Everything Austen II, a literary event created by Stephanie's Written Word. All of my posts for this challenge are [...]

I look forward to reading the posts from others and participating.

[...] Posted on July 26, 2010 by janicu I finally watched Becoming Jane this month as part of the Everything Austen 2 challenge at Stephanie's Written [...]

[...] from The House of Seven Gables, I don't have any on hand. I decided to go forward with the Everything Austen Challenge and read Syrie James's The Lost Memoirs of Jane Austen. I'm looking forward to reading [...]

Oh I WISH I'd seen this earlier!! I would LOVED to have joined!! Maybe I can remember it next year!!

[...] set aside Syrie James's The Lost Memoirs of Jane Austen, which I am reading as part of the Everything Austen Challenge, because everyone I know is reading Suzanne Collins's Mockingjay, and I hadn't even [...]

[...] Everything Austen II: Sense and Sensibility, The Three Weissmanns of Westport, Mansfield Park, The Lost Memoirs of Jane Austen, Miss Austen Regrets, Persuasion (audio) [...]

[...] a brilliant narrator. I love her characterization of Sir Walter Eliot. Plus it's part of my Everything Austen II Challenge, and since I feel behind on that one, I need to give it some [...]

[...] Written Word: Stephanie just celebrated four years of book blogging. She hosts the Everything Austen Challenge, and I just love her reviews and [...]

[...] conclusion. I haven't been able to finish Mansfield Park yet—it's on my list for the Everything Austen Challenge—but I didn't really like Emma as much as the others. I think what clinched it for me was [...]

[...] am falling behind in my Everything Austen Reading Challenge, everyone. I set aside The House of the Seven Gables for now. I might still dip into it a little [...]

[...] read The Lost Memoirs of Jane Austen for the Everything Austen Challenge II. Four down, two more to go! May I truly finish Mansfield Park this time. However, first I will be [...]

[...] I viewed this film as part of the Everything Austen Challenge. [...]

[...] Smoke until January so I can count it? I do, after all, still need to read Mansfield Park for the Everything Austen Challenge this year. I also feel compelled to read it because it's the only Austen novel I've [...]

[...] Park, and I really hope to finish it by the end of the year so that I can say I finished the Everything Austen Challenge. If I do, I will have completed all the challenges I tried, so I'm going to try to finish. I [...]

[...] I finished Mansfield Park just under the wire with less than 24 hours remaining in the year, which means that I have also completed the Everything Austen Challenge. [...]

[...] completed several reading challenges. For the Everything Austen Challenge, for which I read/viewed the [...]

[...] and not run of things to do for a very long time. When I stumbled across the Everything Austen II Challenge a few weeks ago, I knew this would be a perfect opportunity to organize my obsession a bit better. [...]

26 old comments are not displayed. Click to display all comments